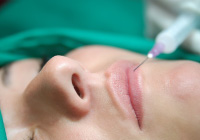 At Virgin Islands Cosmetic Injectables, we are concerned about enhancing your natural beauty. Drs. Shapiro and Smolarz can perform procedures that reduce and eliminate facial lines and creases, enhance the lips and lift the face.
We offer beauty enhancement procedures using Juvéderm® and BOTOX® Cosmetic to reduce the appearance of facial lines and wrinkles.
We offer Fraxel® laser resurfacing to improve complexion and treat sun damage and age spots
We also specialize in Thermage®, a revolutionary new way to tighten facial skin and skin around the eyes without injections, surgery or downtime.
Many cosmetic procedures are performed in a start-of-the-art surgical suite located right inside our offices. Others are performed at the Roy Lester Schneider Hospital on an inpatient and outpatient basis.
Dr. Shapiro is a member of the American Academy of Facial Plastic and Reconstructive Surgery and completed a year of post-graduate fellowship training in Facial Plastic and Reconstructive Surgery.
New Services
Fraxel laser resurfacing
To improve complexion and treat sun damage and age spots